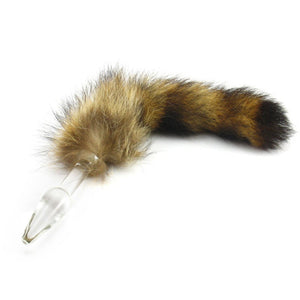 Clear Glass Furry Tail Plug
If your sex life is starting to get boring and you can't think of any other way to liven it up, then, boy, do we have a product for you! Our Clear Glass Furry Tail Plug is an all-around anal sex toy to brighten up the mood and turn your partner on!

Petplay can enhance the sexual drive between you and your partner if you really get into it. Sometimes, a common issue a petplayer gets is what kind of animal would they want to portray. This tail plug encourages you to be whatever creature you want to be! Whether you want to become a fox, a cat, or even a raccoon in your bedroom, you're free to do so with this toy!

The tail is made from high-quality fur material, which is so soft and plush that it almost feels like real animal fur! Different shades of brown contrast each other and the fur is smooth but tousled, resulting in a beautiful and erotic mess that can steal your partner's attention. It's so realistic, in fact, that it can sway about with every movement your butt makes.

Meanwhile, the plug is made from high-quality solid glass material. The shape is different from your typical teardrop-shaped plug, instead, you get this tapered shape which focuses more on length rather than girth. The clear glass material not only makes the plug look fancy and classy, but it also gives your partner a glimpse of your anus before it's completely swallowed up and replaced by the animal tail.

The plug's neck and flat base ensure the plug doesn't go any deeper when it's in your anus, letting it rest comfortably between your butt cheeks while the fur tail moves around with you.
Color
Clear, Brown+black
Material
Handle: Synthetic fur
Plug: Glass
Dimensions
Length
handle: N/A
plug: 3.94 inches
Width
handle: N/A
plug: 0.98 inch
---
We Also Recommend