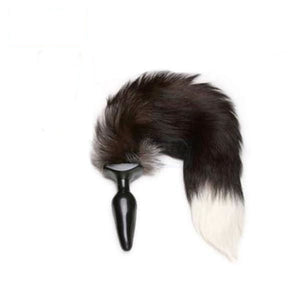 Silicone Black and White Animal Tail Plug
Are you getting bored and tired under the sheets? Are you craving for more excitement and wild action in the bedroom? Purchase our Silicone Black and White Animal Tail Plug, and you'll know what we are talking about.

No matter what your gender is, whether you are gay or straight, anal sex and the use of tail plugs are for anyone who's got an appetite for an exciting bedtime game. Your ass can be stimulated with this anal tail plug because of the several nerve endings that are just waiting to be awakened and activated. Some people swear by the stronger and yummier orgasms that they have attained through the butt than through their genital organs!

If you are one of those people who are just starting out in the world of anal sex, then having our Silicone Black and White Animal Tail Plug will be your best entry toy into this activity. This amazing tail plug is made of premium-quality silicone. This material is ideal for butt plugs because it is hypoallergenic, non-toxic, and guaranteed safe for internal use of the body. Silicone also has flexible and bendable qualities, making it easy for this toy to work its way in your tight ass.

Our Silicone Black and White Animal Tail Plug also features a butt plug that has a cone shape. Its black color complements the tail made of synthetic fur, which is mostly colored black with a white tip. This plug also has a flared bottom base to ensure that this will not get lost inside your ass no matter how rough and wild your kinky moment gets.

As with any sex toy, it is a must to clean the plug before and after use. Wash your plug with mild soap and rinse in warm water. Treat your tail like your own hair by shampooing and rinsing it thoroughly. Then blow it dry using a hair dryer to maintain its luscious quality.

Have wild anal sex with our Silicone Black and White Animal Tail Plug today!

Color
Black with white tip (tail), Silver (plug)
Material
Handle: Synthetic fur
Plug: Silicone
Dimensions
Length
handle: N/A
plug: N/A
Width
handle: N/A
plug: N/A
---
We Also Recommend